I have been asked by lots of very nice people if they can have the transcript of what I said at the women's march at the weekend in Edinburgh…thing is, I hadn't written anything down (I let the anger do most of the work, as usual). (Un)Fortunately for you, someone recorded it. So here it is: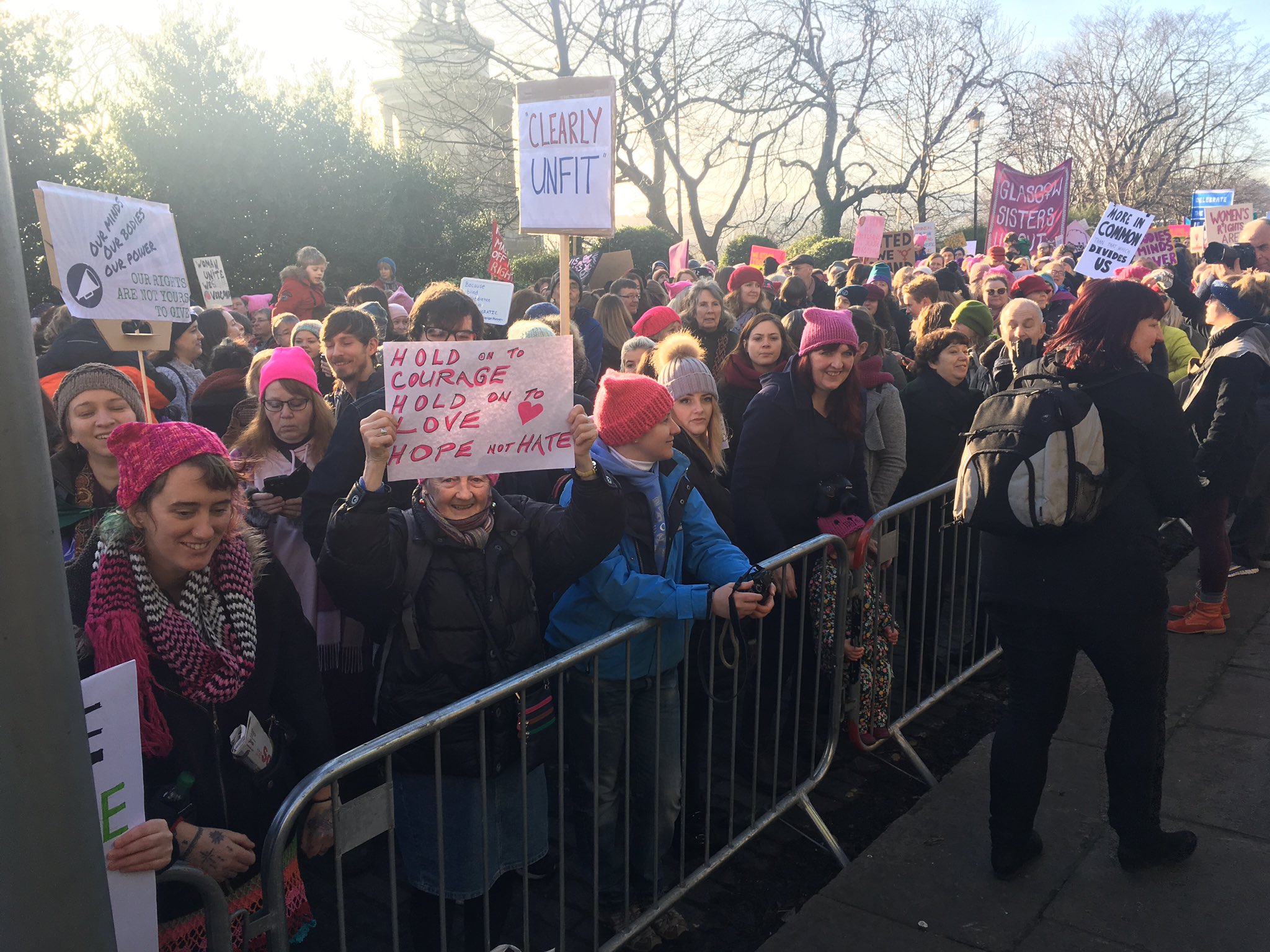 Good morning nasty women!
Can I start off by asking you to give a huge round of applause to Leah and Calum, two 16 year olds who organised and made this march happen.
I know it may seem like a bleak time, but just think of that, look at that and feel hopeful for the future.
Let me tell you a little about myself, I am a BME, Muslim, feminist woman, who is the proud daughter of two immigrants. So I guess we all know, there is nothing here Donald Trump would like. I am very OK with that.
But there is nothing, not one thing in Donald Trump's campaign for President that didn't belittle or insult by identity and every part of my existence.
He believes there should be a register of Muslims.
He has said he wants a complete shut down of Muslims even entering the country.
He has referred to Black Lives Matters campaigners as violent thugs, clearly having little self reflection of his own.
He says that immigrants can simply be referred to as illegals.
And equally worse to all of this, what he has said about women is an absolute disgrace. This is a man who has mocked and glorified sexual assault. This is a man who doesn't want us to have any rights over our bodies and if we try, we deserve to be punished. This is a man who only wants to rate women from 0-10 based on appearance. well let me tell you Donald, you're a stone cold Zero.
The reality is that Trump thinks this is all fine, because "hey, when you're star they let you away with anything". Let me tell you Mr Trump, you don't get away with it, it's called sexual assault.
On my way here, there were many who said, or in fact Piers Morgan on Twitter again, saying "Why are your marching? It's in America, what has it go to do with you?"
Well, that's not how it works. We do not live in isolation. Bigotry anywhere, can lead to bigotry everywhere and it is our duty to stand up against it. We are not immune from bigotry in the slightest, we have it right here on our doorstep, we saw racism used as a campaigning tool during Brexit. Just yesterday the UK Government passed law that would mean a woman would have to evidence she has been raped in order to get child benefit. We have bigotry on our doorstep.
We may be standing against Donald Trump but what we are saying is we will not stand for bigotry here either.
There is just one thing I will leave you with. Whilst it is amazing and inspiring to see so many men, women and wonderful children here. taking a stand once is not enough. There will be more to come. We have to be strong we have to be united and we have to campaign more than simply this rally here today.
What I ask of you is that you keep campaigning. Politics is yours to own. Politics does not exist without your voice in it. You have to take claim of it, it has to be yours and it has to be feminist.
All I ask is that you join a local campaigning group, join an environmental group, join an anti racism group and for the love of God join a feminist organisation. Because it has taken too long and I need women's social justice to finally be realised.
So stay involved, stay inspired and stand strong.